Happy Monday!
So many books to read never enough time so it seems. With the hubby out of town for work I should be able to get some of my reading pile down this week.
Currently I'm reading which I received from the author.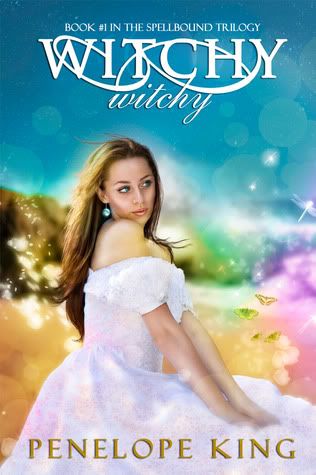 Witchy, Witchy
By Penelope King.
1st in the Spellbound Series
Young Adult/Paranormal
Published January 14th 2012
328 Pages
Synopsis
When Calista McCoy moves from the slums of the Louisiana Bayou to an illustrious beach Community in California, she knows her life is going to take a drastic turn, But once she arrives at the beautiful mansion by the sea, dark secrets are revealed...secrets that become even more complicated when she meets the gorgeous neighbor boy, Nicholas, and she feels an unexplainable--undeniable--attraction. He's everything she's ever dreamed of. Literally.
Her new life seems almost to good to be true. But as everyone knows, when something seems too good to be true, it usually is.
...And in Calista's case, it could be deadly.
Doesn't that sound exciting. I've just started but already I'm in love.
Next up which I was lucky enough to receive from the author.
The Secret Life of Copernicus Stringfellow
By Lorin Barber
Young Adult/Fantasy
Published March 13 2012 (My Birthday has to be good luck)
304 Pages
Synopsis
Copernicus H Stringfellow, a.k.a Nick, is not your run-of-the-mill genius. His mind is so powerful it can stop a speeding automobile or stem internal bleeding. As Nick goes about quietly doing good, he discovers that his powers are greatly enhanced by the nutrients present in Twinkies. Follow Nick on his amazing adventures in this humorous and exciting action packed book for all ages.
Wish I had powers from Twinkies.
Then I have a copy of which I received this morning for review.
The Serpent's head: Revenge
By Julian Malins
1st in a series
Political Crime Thriller
Published May 1st 2012
Synopsis
What would happen in a terrorist attack resulted in the death of the loved one of someone who could take revenge?
Set in the near future, The Serpent's head is the story of a terrorist bomb destroying one of the city of London's most iconic buildings and killing the children of the parents who decide to extract a dramatic and world changing justice.
Set mainly in China, England, Nigeria, Syria and Saudi Arabia, the plots and sub plots weave the reader around the world, as the flames of a general war between Christianity and Islam ignite in West Africa and the Kingdom of Saudi Arabia collapses into chaos. The novel will be the first of several in which the possible future course of the struggle between China, Islam and the West is traced.
The Novel is written by Julian Malins, who is a British Barrister with a worldwide practice in banking, fraud and money laundering cases especially in the Middle East and the Caribbean. He has many articles published in legal journals but The Serpent's Head is his first novel and is packed with insider information and personal knowledge and experience.
I'm a sucker for a good thriller and this one has all the makings for one.
Sugar and Spice and Not So Nice
By Janet McNulty
1st in the Mellow Summers Series
Young Adult/Paranormal/Mystery
Published January 26th 2012
117 Pages
Synopsis
Mellow Summers just wanted to go to college and get her film degree. She moved into a furnished apartment with her friend Jackie only to find out that it already has a tenant: the ghost of the girl who as murdered a year earlier. Now it is up to Mellow to not only discover who the murderer is, but to prove it as well.
With the help of the ghost Rachel, Mellow sets out to solve the year old mystery. She soon finds out that she may have taken on more then she can handle. Pursued by someone who wants to the identity of the killer to remain a secret, Mellow will have to use all her resources to outwit him and help the spirit of Rachel move on.
Who doesn't love a little mystery with a paranormal twist.
Well looks to be a great week. Lots of exciting books to read.